×
Lamouchi: We will have a chance
×
Sabri Lamouchi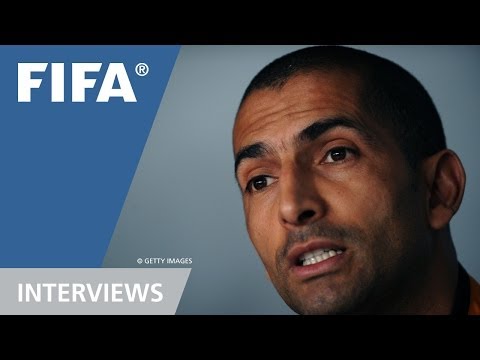 By FIFA.com
---
Sabri Lamouchi has taken on quite a challenge for his first coaching assignment. Capped 12 times by France during his playing days, the former midfielder is now in charge of a Côte d'Ivoire side packed with talent but with no success to speak of on the international stage in the last 20 years.
On his appointment in 2012, Lamouchi was given two objectives: to steer the Elephants to the 2013 CAF African Cup of Nations and then to the 2014 FIFA World Cup Brazil™, both of which he has fulfilled. 
As he explained in an exclusive interview with FIFA.com at last December's Brazil 2014 Final Draw at Costa do Sauipe, the intrepid Côte d'Ivoire coach has a new goal ahead of him: to improve on their last two world-finals showings by taking them beyond the group phase.  
---
FIFA.com: You've been in the Côte d'Ivoire job for a year and a half now. What were your thoughts when you were appointed?
Sabri Lamouchi: I don't think anyone expected it, me included. Obviously taking on a national team in your first coaching job is no easy task, especially when the side in question is one of the biggest in Africa. One of the objectives was to reach the World Cup, and I'm delighted that we're going to be part of all that and that it'll be the third time in a row that this major footballing nation has made it to such a big competition.
How have you adapted to the job?
The key is to adapt to the players you've got. My first challenge was to make sure that everyone worked for each other and that the team spirit was good. And I have to say I was pleasantly surprised by the players. I can't say everything has been perfect, even though we qualified without losing a single game during the campaign. But the fact is, I always tried to find the right solution, to strike a balance and make us competitive, the idea being to create a side that always strives to produce its best. The Côte d'Ivoire fans expect the Elephants to win every game 4-0, but unfortunately things don't work out like that. There are no easy games in Africa. Some big teams have lost in Gambia and tripped up in Tanzania. Look at Morocco, for example [Editor's note: Morocco finished second behind the Ivorians in Group C of Round 2 in the African Zone, having lost in Tanzania and drawn in Gambia]. Teams like them [Gambia and Tanzania] are determined to do well against you and for them it's the match of the year. We got through it in the end, though, and went on to face Senegal in the play-offs. We played them in the play-offs for the last African Cup of Nations too and we've ended up unbeaten against them, winning three of those four games. It's a pleasure to be going to the World Cup a year after the continental finals. We needed a little bit of luck along the way, but we also put plenty of hard work in and things are beginning to take shape. Côte d'Ivoire are lucky in that the Chairman of the national FA wants to see stability. To get results you need time and when it comes to national teams you get a lot less time [to work with the players] than you do with clubs.
You mentioned the play-offs against Senegal. You won the first leg comfortably enough 3-1, but the return was not quite so straightforward, was it?
We went into the second leg with a two-goal lead but it should have been three at least. If we'd won by four or five goals, that would have been that, but we went and conceded an injury-time goal and it changed everything. Suddenly, Senegal went from needing four goals to go through to just two. They'd been completely out of it until then, and it gave them renewed confidence. We knew the return leg would be tough, even with that cushion. But we had the advantage. We'd played 18 matches together and we'd scored in every one of our away games. We were lucky against Senegal that day and I have to say that our opponents played a great game. We didn't, though our defence and our goalkeeper put in tremendous performances. Qualifying is all that matters, though I honestly think that if you look at the two games overall we totally deserved to go through.
How did you feel when the final whistle sounded?
Relieved more than anything. I have to say it was torture to watch the second half. We were completely off our game and we didn't have any answers. The Senegalese had a great chance and if it hadn't been for Giovanni Sio making that last-ditch tackle, then who knows what would have happened. Then we went and equalised on the break to finish the qualifiers unbeaten. It was a huge relief and immensely satisfying to lead this great football nation to a third consecutive World Cup, and to Brazil too, the home of the game.
Brazil 2014 is the last chance for a golden Ivorian generation led by Didier Drogba and Kolo Toure to truly achieve something...
Côte d'Ivoire can't win the World Cup though! We have a generation of players who are coming to the end of their careers and for some of them it will be their last World Cup. There's no denying that, but we have players who are capable not of springing a surprise but of playing at the level they're known for around the whole world. They've always been the favourites in the African Cup of Nations, but they've never won the trophy. Nobody's giving them much of a chance in the World Cup but they have the talent to trouble the big teams. And if we're going to do that we need everyone to rally to the cause 100 per cent.
How far can you go in the competition then?
We're not setting any limits for ourselves. The number-one objective is to try to do better than we've managed on the last two occasions and get past the group phase. We know it won't be easy because there is a lot of quality in our section. If we get through, then anything can happen. We need to focus on our first match, though, on our preparations and our strengths. The Ivorian fans expect nothing less and we need to do them proud. 
Your group contains Colombia, Japan, and Greece, and it looks to be a lot more straightforward than the ones you've faced at previous World Cups.
It's not an easy group though. Colombia could be one of the big surprises of the next World Cup. I watched them beat Belgium recently and they're meticulous in their approach and determined and talented too. Japan are the best side in Asia and, though Greece were European champions ten years ago now, they're still a tough side to move around and get the better of. It's a very evenly balanced group and the first game will be vital.