×
MDG - 1000 days to go
MDG - 1000 days to go
×
Ban Ki-moon on MDGs deadline
Secretary-General of the United Nations - Ban Ki-moon speaks about the need to scale-up efforts towards achieving the Millennium Development Goals (MDGs) which are 1000 days away.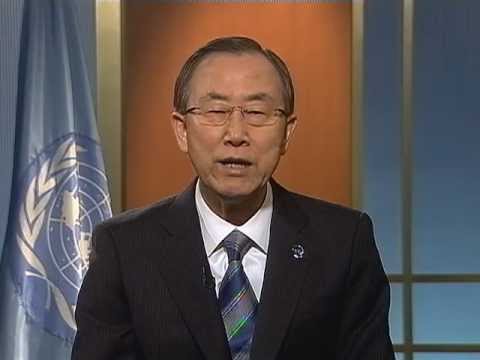 ONE - A global advocacy and campaigning organisation backed by more than 3 million people from around the world dedicated to fighting extreme poverty and preventable disease, particularly in Africa; has observed that the announcement by the Development Assistance Committee (DAC) of the Organisation for Economic Co-operation and Development (OECD) that aid to developing countries has fallen by nearly 3 percent (excluding debt relief) in 2012, shows that urgent action is needed to concentrate development efforts ahead of the Millennium Development Goals (MDGs) 2015 deadline.
ONE is calling on international aid donors along with African governments to launch a 'sprint to the finish' to achieve the global targets for cutting poverty and disease by 2015.
With 1000 days to go until the deadline for the MDGs, ONE is asking, "Where do we stand in meeting these goals? And what needs to happen between now and 2015 to ensure that the world sprints to the finish line?"
"There's been tremendous progress made over the past decade," says ONE Global Policy Director - Ben Leo. 
"However, it's vital to continue the momentum in the final 1000 days. Today's announcement by the OECD is worrying if countries cannot uphold current levels of support to meet these goals. It's equally critical that African governments meet their own financing commitments on health, agriculture, and education as well."
A new ONE analysis on MDG progress finds trailblazers like Ethiopia, Ghana, Malawi and Uganda on track to achieve at least half of the core MDG targets. Outside of Africa, countries like Cambodia, Honduras, Nicaragua and Bhutan are among those making monumental leaps of progress.
Leo notes that the world is a very different place than when UN member states originally set the MDGs. Extreme poverty has already been halved, falling from 43 percent to 21 percent in 2010.  Child mortality rates have been slashed, with 2.65 million fewer kids dying in 2011 than in 2000.  Over 8 million people now receive lifesaving AIDS treatments and AIDS prevalence rates are steadily receding in many hard-hit developing nations.
"It's key to stress that this is not just localized progress, but dramatic gains have been made throughout every developing part of the world" says Leo.  "The old argument that the MDGs are being driven by China's rise is not only untrue, but does a gross injustice to the remarkable trends underway in the poorest regions of the world, especially sub-Saharan Africa."
Based on the most recent World Bank data, the ONE analysis of the progress on the MDGs offers these key findings:
63 developing countries are on track to cut extreme poverty rates in half by 2015, including 16 located in sub-Saharan Africa.
72 countries are projected to improve access to safe drinking water by half, including 19 sub-Saharan African countries.
65 developing countries are on track to cut child mortality rates by two-thirds, including 13 in sub-Saharan Africa.
65 countries are projected to achieve their gender equality MDG (e.g., ensuring girls have equal access to primary and secondary education), including 14 in sub-Saharan Africa.
Despite this progress, there are several challenges that require immediate attention. Such as:
Only 22 poor countries (7 in sub-Saharan Africa) are on track to ensure that every child receives a full primary education.
Only 30 developing countries are projected to meet their maternal mortality goal.  This means that over 100 countries will not meet their respective targets.
Currently, 26 countries are projected to meet zero or just one MDG target by 2015.  Poor governance and/or conflict are the destructive driving forces behind most of these cases – which are not easily or quickly resolved.
To build on the progress that's been made and quickly accelerate progress on challenges not being met, ONE is calling on donors to step up with strong financial support for developing countries' homegrown efforts. At the same time, developing nations should present clear, MDG acceleration plans that span the next 1000 days and beyond. It cannot be business as usual if the MDGs are to be met by the deadline.