×
×
Dora Akunyili,Other Delegates Discuss the Presidential Inaugural Speech at the National Conference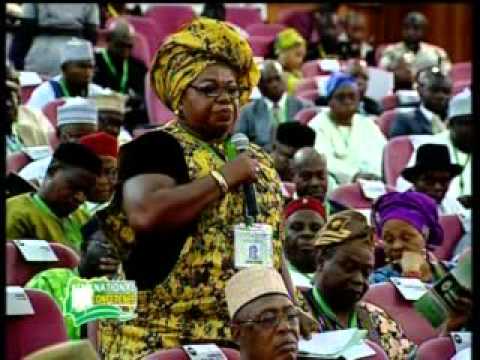 Dora Nkem Akunyili (14 July, 1954 - 7th June, 2014) served Nigeria as the Director General of the National Agency for Food and Drug Administration and Control (NAFDAC) and the Minister of Information and Communications.
Prof. Akunyili was exceptional in all her services to Nigeria, and she was part of the very few leaders who hoped to see a "re-branded Nigeria".
Always thinking about the good of Nigeria, Dora defiled her health condition, at the 2014 National Conference, to give Nigeria her last words.
Here are her last words to us...
"Nigerians have for long clamoured for an opportunity such as this to discuss our problems and come up with solutions that will strengthen the bond of our nationhood. I regard this national conference as President Jonathan's best centenary gift to Nigerians, and a proof that he is a listening president.
Mr. President's speech oozes humility, modesty, patriotism and a deep concern for the present and future of this beautiful country, Nigeria. Mr. President in that speech admitted that sovereignty belongs to the people. And those in authority are only holding power on trust for the people and of course that nobody has monopoly of knowledge. Hence, the decision for convening this conference. One thing that stands out from Mr. President's speech is that there is no trace of negativism. For instance, he made it clear that Nigeria's unity is not negotiable and our duty at this conference is to discuss ways to build a stronger and better Nigeria and I totally agree with him.
I am convinced that Nigeria should remain as one nation after 100 years despite her challenges because our common values overwhelm our differences. Apart from our long history of togetherness, we've also enjoyed many decades of inter-marriages and mutual co-existence. We have to make sure that this conference delivers on the true spirit of Mr. President's speech.
While we discuss the value of unity as written in his speech, we must realise that millions of Nigerians are being discriminated against in various parts of this country where they are born; where their forefathers lived; based on the so-called state of origin. The founding fathers of Nigeria had a dream of building a united, prosperous, and developed nation state where social justice reigns. We also have to continue to dream because once we stopped dreaming then life is gone.
In conclusion, I am convinced that Nigeria will work and fulfil its destiny. I therefore look forward to collaborating with other delegates to chart the way for a better and new Nigeria. We all want to see a positive transformed Nigeria and I therefore urge all of us to work individually and collectively so as to set the right agenda for the Nigeria of our dream.
Mr Chairman, distinguished delegates, I leave you with the words of this Greek proverb "A society grows great when old men plant trees whose shade they know they shall never sit in." 
---
AWARDS:
Dora's good works did not go unnoticed. Some of the awards Prof. Akunyili received in her lifetime were:
Time Magazine Award 2006 ("One of the eighteen heroes of our time") - Time Magazine Inc.
Person of the Year 2005 Award - Silverbird Communications Ltd, Lagos, 05-01-2006
Award of Excellence - Integrated World Services (IWS), Dec. 2005
Award of Excellence - Advocacy for Democracy Dividends International, Lagos, 17-12-2005
Meritorious Award 2005 - St. Michael's Military Catholic Church, Apapa, Lagos, 04-12-2005
African Virtuous and Entrepreneurial Women Merit Award 2005 - African Biographical Network, Dec. 2005
Award for the Best Government Parastatal - National Association of Nigerian Students (NANS), December 2005
An Icon of Excellence Award - The African Cultural Institute and Zenith Bank Plc, 08-12-2005
2005 Grassroots Human Rights Campaigner Award London Based Human Rights Defense Organization. 08-12-2005
Most Innovative Director Award Federal Government College, Ijanikin, Lagos. Oct. 2005.
Integrity Award 2003 - Transparency International.
---
TRIBUTES 
Many distinguished Nigerians turned up to bid the Late Dora a final farewell at the special Honours and Tributes Ceremony held in her memory at the Women Development Center, Awka - on August 27. At the same time, an emotional-laden requiem mass was organised in memory of the deceased at the Our Lady Queen of Nigeria Pro-Cathedral, Garki, Abuja.
President Jonathan paid his tribute to the uncommon Nigerian. He said, "To my children, your mother was a very dynamic woman because her works and identity have given you what silver and gold cannot give you.
"Yes, it might not translate to monetary rewards, but many will respect and want to assist you as her children because of her. We pray that those of us serving now, whether President, Vice President, or others, when we die, people will respect our children because of our deeds like Dora. So you have to thank God for that."
The incumbent governor of Anambra State, Chief Willie Obiano, observed that "In her lifetime, Dora meant different things to different people. To her family, she was a loving mother and a caring wife, to Ndi Anambra, she was a proud daughter and a great ambassador, to Nigerians, she was a crusader, an amazon and a super-heroine".
In his own eulogy, former Nigeria Head of State, General Yakubu Gowon described Prof Akunyili as a great woman.
"What is she not? You cannot get a better woman than her. My apologies to my wife. She was a fantastic woman, a fantastic wife, mother and grandmother. I think this nation had one of the greatest gifts of human beings in Dora. Let us rejoice in the life of this great woman. She deserves our prayers and respect", he observed.
Bola Obasanjo, the wife of former President Olusegun Obasanjo described Dora as "a legend, an Icon. She will never be forgotten. She staked her life to save many lives. We all remember that day when the bullet took the cap off her head. We are grateful to God that it did not remove her head that time
Trumpet Media Group wants to also use this medium to thank the rare gem, Dora, for positively affecting Nigeria, and also wish her a very peaceful eternal rest.
You may also pay your tributes...