×
Abubakar Shekau
×
Video of Boko Haram leader promising to sell abducted girls (with English translation)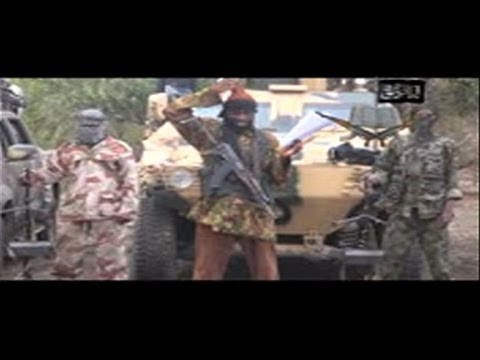 The Islamist militant group - Boko Haram, has claimed responsibility for the abduction of more than 200 schoolgirls during a night raid in the village of Chibok in northeast Nigeria on April 14, the French news agency Agence France Presse (AFP) reported, citing a video it had obtained.
The group's leader - Abubakar Shekau speaking in Hausa said in the 57-minute video: "I abducted your girls."
"I abducted a girl at a western education school and you are disturbed. I said western education should end. Western education should end. Girls, you should go and get married," he added.
Shekau also said "I will sell them in the market, by Allah. There is a market for selling humans. Allah says I should sell. He commands me to sell. I will sell women. I sell women."
Following the abduction a few hours after the bomb explosion that killed over 70 people and injured over 120 people, there have been protests in the country including the capital city - Abuja.
International attention to the abduction initially lukewarm, has grown in the last few days, thanks to a social media campaign #bringbackourgirls.
There are conflicting figures about the number of abducted girls. It is believed that 273 girls were abducted - although 53 managed to escape from the militants leaving 223 still being missing.