×
Gone Too Far! (Trailer)
×
Gone Too Far!
×
L-R: Malachi Kirby and Golda John Abiola
×
L-R: Malachi Kirby and O.C. Ukeje
×
L-R: Shanika Warren Markland and Adelayo Adedayo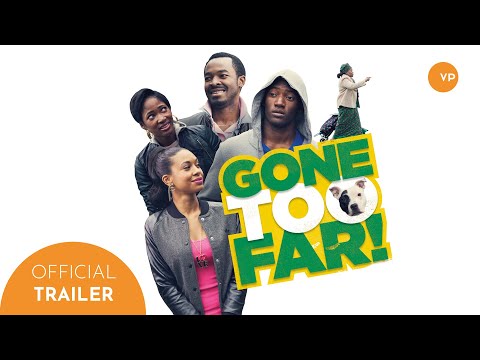 Destiny Ekaragha's critically acclaimed comedy Gone Too Far! opened in cinemas nationwide last Friday through Verve Pictures.
Gone Too Far! follows two estranged teenage brothers over the course of a single day as they meet for the first time and struggle to accept each other for who they are.
When London teenager Yemi's big brother comes to live with him from Nigeria, Ikudayisi's terrible fashion sense, broad Yoruba accent and misplaced confidence with the opposite sex threaten to destroy Yemi's already small amount of street cred. When the pair are forced to spend the day together on their Peckham estate Yemi is forced to confront local bullies, the unattainable girl of his dreams and his own African heritage, eventually teaching both of them the values of family and self-respect.
The feature debut of acclaimed shorts director Ekaragha, Gone Too Far! is based on the Olivier Award-winning stage play by British-Nigerian writer Bola Agbaje, first performed at The Royal Court in 2007. The film features an exciting and up and coming cast, including Malachi Kirby (Offender, My Brother The Devil) and Nigerian actor O.C. Ukeje, currently appearing in Half of a Yellow Sun alongside Chiwetel Ejiofor. Also starring are Shanika Warren-Markland (Adulthood, 4.3.2.1); Tosin Cole (Second Coming, Hollyoaks); Adelayo Adedayo (Some Girls); Golda John and comedian and presenter Eddie Kadi.
Gone Too Far! was named Best New British Comedy at the LOCO London Comedy Film Festival 2014 and Ekaragha was nominated for Best Newcomer at the BFI London Film Festival in 2013. It was also named Best Independent Film at the influential Screen Nation Awards 2014, which celebrates film and television content of the African diaspora.
Agbaje adapted the screenplay from her own play, which in 2007 won the Laurence Olivier Award for Outstanding Achievement in an Affiliated Theatre. She received an Evening Standard Award nomination for Most Promising Playwright in 2008, and has seen her other plays, including Belong and Off The Endz, performed in major theatres across London. Destiny Ekaragha previously helmed The Future Wags of Great Britain in 2010 for Channel Four's Coming Up strand, and her 2008 short Tight Jeans won plaudits at that years' BFI London Film Festival. She is one of only three black women ever to direct a feature film in the UK.
Ekaragha said: "I'm delighted that Verve will be distributing Gone Too Far! – they have a fantastic track record of supporting first-time directors, and of working on bold and singular films, and it's incredibly exciting to be able to share our film with the world. "
Gone Too Far! is backed by the BFI Film Fund and produced by Poisson Rouge Pictures.
---
Directed by: Destiny Ekaragha
Written by: Bola Agbaje
Cast: Malachi Kirby, O.C. Ukeje, Shanika Warren-Markland, Tosin Cole, Adelayo Adedayo, Golda John and Eddie Kadi.
Produced by: Christopher Granier-Deferre
---
Showing At:
London, Odeon Panton St (From 10/10/14)
London, Hackney Picturehouse (From 10/10/14)
London, Ritzy Picturehouse Brixton (From 10/10/14)
London, Odeon Streatham (From 10/10/14)
London, Odeon Greenwich (From 10/10/14)
London, Peckhamplex (From 10/10/14)
London, Odeon Lee Valley (From 10/10/14)
London, Cineworld Enfield (From 10/10/14)
London, Cineworld Wood Green (From 10/10/14)
London, Vue Shepherds Bush (From 10/10/14)
London, Vue Acton (From 10/10/14)
London, Cineworld Wandsworth (From 10/10/14)
London, Showcase Newham (From 10/10/14)
London, Vue Westfield Stratford (From 10/10/14)
London, Vue Croydon Grants (From 10/10/14)
Bristol, Watershed (From 10/10/14)
Bristol, Showcase (From 10/10/14)
Wolverhampton, Cineworld (From 10/10/14)
Birmingham, Odeon Broadway Plaza (From 10/10/14)
Manchester, Odeon Printworks (From 10/10/14)
Sheffield, Cineworld (From 10/10/14)
Newcastle, Tyneside Cinema (From 17/10/2014)
London, Tricycle Kilburn - Q&A screening with Destiny Ekaragha & Bola Agbaje (From 19/10/2014)
London, Lexi Kensal Rise - Q&A screening with Destiny Ekaragha & Bola Agbaje (From 22/10/2014)